The index provides ratings for 50 brands, based on the opinions of the PoliticsHome insider panel, as well as informed political observers across the country.
Since last year, Royal Bank of Scotland (RBS) has gained 25 percentage points, making it the biggest climber since the last reputation index in October 2009.
Lloyds Banking Group has gained 21 points - but both banks still languish in the bottom half of the table.
The UK taxpayer currently has a 41 per cent share in Lloyds Banking Group and an 83 per cent share in RBS. The findings suggest that political operators are becoming more passive towards the banks - despite recent negative stories such as Northern Rock's CEO Gary Hoffman being offered £500,000 gardening leave.
RBS does not have a retained agency for public affairs.
Lloyds Banking Group dropped its retained public affairs agency Citigate Dewe Rogerson Public Affairs and turned to College Public Policy for a slimmed-down brief in July this year.
One consultancy chief with banking clients said: 'What went on in the banks is so much bigger than anything an agency or an in-house PR person can deal with. The bank crisis moved the dial to what CEOs say rather than what comms people do.'
The biggest loser in this year's index is BP, whose rating has fallen by 23 points following the Gulf of Mexico oil spill.
The perception of charities remains strong, with Cancer Research topping the index, and Amnesty and Barnardo's also remaining in the top ten.
Trades unions continue to be perceived negatively by the panel. Unison and Unite have not improved upon the low ratings received last year, while the TUC's rating has declined by nine points.
Among media organisations, the BBC's reputation has held firm despite criticism from the right, while BSkyB's standing has plummeted.
PoliticsHome surveyed 537 people professionally involved in politics, including MPs, civil servants, political journalists and public affairs professionals. In addition, more than 1,000 informed political observers across the country were surveyed.
How I see it
Eben Black, Director, DLA Piper
It's interesting that banks' reputations are starting to improve. They haven't done anything to make them shine, and we still see the constant 'drip drip' of negative press. I think it's more a case that people are just growing more passive towards the banks.
Grahan McMillan, CEO, Open Road
I think BP will see a major improvement next year. The new CEO is focusing on health and safety and its reputation will start climbing again. With regard to trades unions, it will get really interesting when the spending cuts come, because unions could end up being the only ones who will stand up for the people.
64 - Cancer Research UK's index rating
-8 - TUC's index rating
-12 - BP's index rating
-29 - RBS' index rating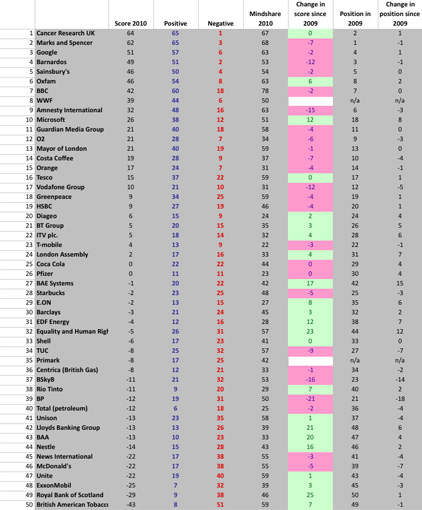 Methodology
PoliticsHome surveyed 537 Westminster insiders plus 1,000 informed political observers across the country. For the reputation index, they were asked to choose those organisations of which they have a positive impression - and those of which they have a negative impression. The percentage with a negative impression was subtracted from the percentage with a positive impression to give a net 'favourability rating'.