Cereal manufacturer Kellogg's is considered more irresponsible than McDonald's, Burger King and Coca-Cola, new figures show.
More than half of the 3,000 respondents to PRWeek/OnePoll's latest survey chose Kellogg's as the most
irresponsible manufacturer of food high in fat, salt and sugar (HFSS). McDonald's was chosen as the most responsible HFSS manufacturer by 56 per cent of respondents.
The figures came as Health Secretary Andrew Lansley prepared to scrap the Food Standards Agency, revealed last week. Eighty-two per cent of respondents did not think the body should be scrapped, and without it 79 per cent did not trust the industry to be properly regulated.
The traffic light system, where foods are marked red, amber or green to indicate how much fat, sugar and salt they contain, has been a success, according to 82 per cent of respondents, who said the system helped them work out how healthy food was.
The food industry is partly responsible for the rise in obesity in Britain, according to 52 per cent of respondents. Seventy-four per cent of respondents said firms selling unhealthy foods should not be allowed to advertise directly to children, and 69 per cent said foods high in salt, sugar or fat should carry warnings similar to those on cigarette packets. Nearly 70 per cent of res­pondents said there should be tighter res­trictions on how companies promoted unhealthy food online.
But despite these findings, when asked who should be mainly responsible for stopping Britain's obesity problems, 80 per cent of respondents said responsibility lay with the individual.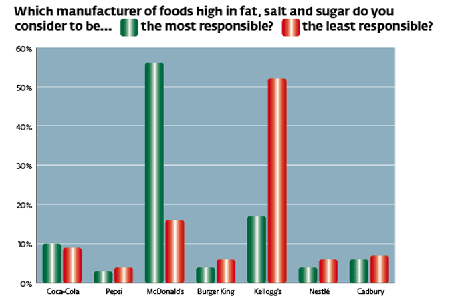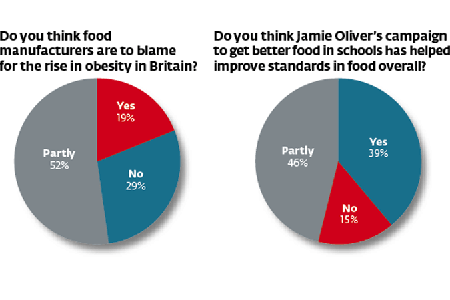 ADVERTISING
85% of respondents said companies selling 'unhealthy' food products
should be allowed to advertise

FOOD STANDARDS
82% said the Food Standards Agency should not be scrapped

TRAFFIC LIGHT SYSTEM
82% said food labels marked red, amber or green to indicate levels of
fat, sugar and salt did help them to work out how healthy or unhealthy
food was

OBESITY
80% said individuals should be mainly responsible for tackling Britain's
obesity problem
How I see it
Avril Lee
Deputy CEO, Ketchum

So, people are responsible for what they eat and no single solution will solve the nation's increasing girth. Hurrah for the British public.
The nation wants a realistic and fair approach to food regulation and healthy eating. Eighty per cent of people view obesity as a personal responsibility and, while they want more education and sensible regulations, they also don't see firms as the cause of all our problems.
The food industry is already actively reformulating products and changing approaches. Firms realise they will be judged on how they respond to this issue.
They will also need to take on some of the wider responsibilities, such as education, to be a credible collaborator in change. The public agrees with the Government – we need a collective stakeholder response to achieve positive change. With most people against the FSA shutdown, the DH will have to show it can reshape the nation in partnership with all players.