Virgo took home three awards including Communiqué Communications Consultancy of the Year for the second year running, and two prizes for its joint campaign with GlaxoSmithKline Consumer Health for the launch of Alli.
Meanwhile, Euro RSCG Life Medicom picked up three gongs including the Award for Best Corporate Communications.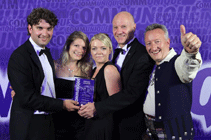 Health Mandate also had a successful night, taking home three awards including the coveted Communiqué Small Consultancy of the Year accolade and the prize for Best Healthcare Policy Programme for the agency's work with The Hepatitis C Trust.
Munro & Forster also picked up two awards for its work with NHS Blood & Transplant for media relations and the Judges' Award for Innovation in Healthcare Communications.
The winners were applauded at the awards dinner at the Grosvenor Hotel on Park Lane last night, which was hosted by comedian Michael McIntyre.
Virgo Health joint founder Sarah Matthews was chair of this year's judging panel, which included judges from Tonic Life Communications, OgilvyHealthPR, Resolute Communications and Insight Public Affairs.
The awards saw a 20% increase in the number of entries submitted compared to last year, taking the number up to just under 300.
List of winners:
Communiqué Healthcare Communications Awards
Best Communication of Scientific Data Ash Healthcare for Daiichi Sankyo UK – Ometec on Trial
Best Communication of Survey, Market Research or Audit Data Red Health for Pfizer – Driving Get Real, Get a Prescription to the Next Level
Best Medical Communications via Meetings or Congresses Resolute Communications for Shire – Through the Looking Glass: A Children's Perspective on ADHD
Best Medical Education Programme for Physicians Baxter Healthcare – Access is the Key – Achieving Success Through PD Access Academy & Euro RSCG Life Medicom for BMS – Responsibility, Anticipation, Discussion, Assessment and Response Approach
Best Professional Education Programme Abbott Nutrition and the Royal College of Nursing – Nutrition Now
The British Journal of Clinical Pharmacy Award for Best Public health Initiative Euro RSCG Life Medicom for Innovex and NHS Doncaster – Test Your Heart
Best Patient Healthcare Programme Healthcare Solutions PR for Chrohn's and Colitis UK – Overcoming Ignorance of Colitis and Crohn's Disease
Best Healthcare Policy Programme Health Mandate for The Hepatitis C Trust, supported by Roche Products – Securing a liver strategy
Excellence in Product Communications Virgo Health for GlaxoSmithKline Consumer Health – The Launch of Alli
Excellence in Healthcare Communications using Digital Media Cancer Research UK and Unity - Skindividual
Excellence in Healthcare Communications using Media Relations (UK) Munro & Forster for NHS Blood & Transplant – NHS Blood & Transplant Organ Donation
Excellence in Healthcare Communications using Media Relations (International) GlaxoSmithKline Consumer Health & Virgo – Laucnhing Alli Across Europe
Best Consumer Health Communications Programme Pegasus PR for Thornton & Ross – Hedrin – Once a week, Take a Peek: Getting Ahead of Head Lice
Writing Excellence Health Mandate for Rarer Cancers Forum – Off Limits
Best Healthcare Partnership Ketchum Pleon for Pfizer UK – Follow your Heart: Improving Post-myocardial Infarction Care in the UK
Judges' Award for Innovation in Healthcare Communications Munro & Forster for NHS Blood & Transplant - NHS Blood & Transplant Organ Donation
Communiqué Individual, Team and Organisation Awards
Patient or Professional Association of the Year Lifeblood: The Thrombosis Charity, submitted by Athena
In-House Team of the Year Medtronic
Young Achiever in Healthcare Communications Red Door Communications' Nicky Walsby
Healthcare Communiquétor of the Year Chris Brinsmead
Healthcare Communications Advocate Baroness Julia Neuberger
Communiqué Industry Reputation Awards
Awards for Best Corporate Communications Euro RSCG Life Medicom for European Alliance for Access to Safe Medicines – Counterfeiting Superhighway
Award for Best Internal communications Programme Shire PLC – A Brand New Brand for Shire Pharmaceuticals
Trust & Reputation Award Leerink MPIP Initiative Steering Committee – Medical Publishing Insights and Practices Initiative
Communiqué Consultancy Awards
Communiqué Small Consultancy of the Year Health Mandate
The Succinct Communications Award for Medical Communications Consultancy of the Year Watermeadow Medical
Communiqué Communications Consultancy of the Year Virgo Health