With consumers becoming increasingly sophisticated in the management of their own health, we at Allidura, believe brands in the consumer health and wellness space need to enhance their proposition accordingly.
These companies must demonstrate genuine health benefits to the public with the same priority as any specialist audience. Now more than ever companies working in the field of health and wellness must build credibility for their brands, which means communicating the science behind them. Brand credibility can simultaneously foster trust in the provider and loyalty from the consumer.

Why is credibility important?
Brands must convince consumers that their promised health benefits are authentic, which means communicating the evidence behind them in accessible terms. In this way credibility can be achieved, and trust in the brand can be unlocked.
Over the last five years there has been a sharp increase in brands claiming health benefits, particularly surrounding breakfast cereals, yoghurts and yoghurt drinks which comprise the backbone of the functional food market. A plethora of clinical data and scientific messages exists, but the presentation of this information is so eclectic, and the depth of the science so variable, that it can be difficult for consumers to decide what is real and what is 'marketing speak', making credibility an elusive goal.
In pharmaceuticals we know products rise and fall on their credibility, with the absence of compelling data sounding the death-knell for many nascent brands. But the same is increasingly true in the consumer space, with the media, health institutions and peer-to-peer social networks rife with almost gleeful reportage on food brands that are either purveying half truths or outright inaccuracies in their marketing. See Pret-A-Manger's experience as an example:
http://www.dailymail.co.uk/news/article-1224539/Pret-Mangers-fresh-sandwiches-filled-chicken-came-frozen-Brazil.html
Without credibility, the future of a brand will undoubtedly be constrained.
What does credibility give brands in the health and wellness space?


Although achieving credibility can be a challenge, the associated opportunities are clear. Credibility can:
- illustrate expertise and dedication to the field
- protect against potential issues through strong partnerships
- alert drivers of the health agenda to the value of your brand(s)
- highlight to staff the value they create through their work
- and, of course, improve the health and wellbeing of millions.
The foundations of credibility
Many factors contribute to consumer health credibility. Strong, rigorous data and studies are paramount, but of little value without translation of the science into messages that can be understood and admired by the customer.
For those seeking to build credibility in health-focused consumer brands there are a number of other key considerations: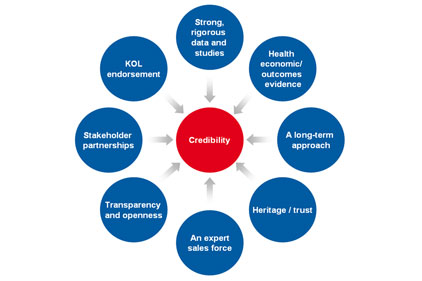 Companies who recognise and act upon these imperatives will be best placed to drive credibility for their brands.
Allidura knows the value of credibility and has worked closely with Innocent, Danone, Johnson & Johnson and The Coca-Cola Company to build robust health communications for their consumer brands. These companies' evidence-based partnership approach to building credibility has proven results such as reducing hospital acquired infections with the daily probiotic drink Actimel, raising awareness of lower belly bloating and digestive health with Activia and building the health credentials for Innocent smoothies to be recommended as two portions of people's "5-a-day".
The markets in which we operate demand their health information sources be credible. Building credibility in health and wellness is crucial for the future success of the consumer health businesses especially as the number of companies involved in this sector increases and interest in health continues to grow. The credibility achieved, relationships formed and partnerships developed will all have a direct impact on our consumers' health and, in turn, drive sales.
Vicky Hunt is managing director of Allidura, the consumer health unit of Chandler Chicco Companies.