Comms consultancy TLG and pollsters Populus surveyed 2,000 voters to discover which messages worked and which flopped in the campaign.
During past election campaigns, both Labour and the Conservatives have excelled at producing memorable slogans.
In 1992, the Tories captured voters' imagination with warnings of 'Labour's tax bombshell', while in 1997, New Labour successfully portrayed itself as 'For the many, not few'.
The latest research found that the Conservative Party had the most recognisable message of the 2010 election campaign, with 'It's time for change'. Some 54 per cent of voters recognised this as a Tory campaign message.
Other key slogans were less successful for the Tories. David Cameron's key pitch that 'We can build a big society' was only recognised by 24 per cent of voters and the often-repeated Tory message of 'We're all in this together' achieved cut-through with just 20 per cent of voters.
Labour and the Liberal Democrats were even less successful at getting their messages through to the electorate.
The research revealed that Labour's best message was 'We will protect your police, your national health service and your schools'. However, this only cut through to 32 per cent of voters. Meanwhile, Labour's official slogan - 'A Future Fair for All' - was recognised by just 25 per cent of voters.
The Lib Dems' most resonant message was Nick Clegg's assertion that 'I believe the way things are is not the way things have to be'. This was recognised by 32 per cent of voters.
In a report outlining the findings, TLG said: 'On average, across the messages, none of the scores were particularly high.
Either people's bandwidth for political messaging is narrow, or the messaging was not particularly compelling.'
TLG MD Malcolm Gooderham said there were key comms lessons to be learned from the campaign.
He said: 'Top-down sloganising posters had little, if any, cut-through. The viral ads, however, captured the imagination of the voter, as they engaged with voters in a medium to which they are receptive and were very cost-efficient.'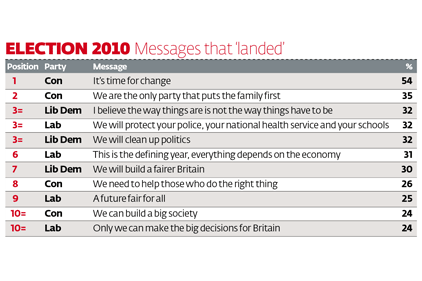 PRWEEK ELECTION PANEL
Leading comms experts, with different allegiances, give their final verdicts
PAUL RICHARDS - LABOUR
Labour's campaign was hobbled by lack of funds, plagued with bad luck, and sabotaged by Brown insulting Labour-supporting grannies. What was Labour's slogan? Can you even remember? Which poster stood out? Only the own-goal of the Cameron-as-Gene-Hunt poster.
The hostility of the national press meant Labour struggled to be heard. The herculean efforts of local Labour candidates were being undermined daily.
When Labour launched its suite of posters, a car crashed as Lord Mandelson was speaking. At the same event Brown met a voter who wanted to thank him for her rapid, life-saving cancer treatment. You just knew which would get reported.
It was a mistake for Brown to agree to TV debates, when the format didn't favour his oratorical style. Brown found his voice in his passionate speech to Citizens UK in London. But as Neil Kinnock discovered before him, great speeches don't impress voters - especially if they've decided they don't want you.
- Paul Richards formerly advised cabinet ministers Patricia Hewitt and Hazel Blears, and is the author of How to Win an Election. He writes a weekly column for Progress
TIM COLLINS - CONSERVATIVES
Conservatives do not know whether to laugh or cry at the election result. David Cameron got a higher share of the vote than did Tony Blair in 2005, but fell tantalisingly short of a majority. Is Cameron to be thanked for gaining nearly 100 seats, or damned for failing to defeat Gordon Brown outright?
All will depend on whether Cameron finds himself in Downing Street once the dithering devious double-crossing Lib Dems (led by the current equivalent of Dick Dastardly) have finally made up their minds.
Cameron is a bold man - offering a full coalition and a referendum on proportionate representation - and he will not be thanked by his party if he has not ended its 13 years in opposition.
It does not seem likely that any government, of any stripe, can survive for long in this hung and paralytic parliament, not now the third party has shown itself to be as strong and reliable as a soggy newspaper in a hurricane. So, a further election seems likely, perhaps within months.
- Bell Pottinger Public Affairs MD Tim Collins is a former Conservative Party comms director and has served in the shadow cabinet
IAN WRIGHT - LIBERAL DEMOCRATS
The most extraordinary election in recent history produced the most gripping political drama of modern times. In the end, it came down to an old-fashioned squeeze and a chunk of those most enthused by Nick Clegg's campaign who did not - for whatever reason - make it to the polling stations.
While Clegg's performance was sure-footed, the affection and visibility he generated simply did not translate into votes. So, election night was a considerable disappointment.
Until Monday evening, the self-discipline of all three parties was remarkable, the civility with which both Tories and Labour treated the Lib Dems unprecedented. No leaks, no rhetoric. But Gordon Brown's resignation was a game-changing master stroke. His only card and it was played to perfection as soon as a chink appeared in Tory-Lib carapace. Rarely has the political dynamic shifted so completely as the consequence of one intervention.
- Ian Wright has advised Liberal Democrat leaders Paddy Ashdown, Menzies Campbell and Nick Clegg. He now works in corporate comms.