---
Latest technology news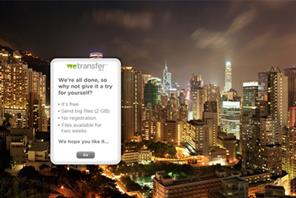 WeTransfer, the file-sharing service, has hired 77PR as its first comms agency after a competitive pitch.
Related headlines

By John Owens, 20 May 2013
Google has successfully got on to the 'front foot' over its tax issue after being stung by criticism, industry experts agree.

By John Owens, 16 May 2013
HTC is in closed talks with agencies over a brief to drive sales of its forthcoming make-or-break phone.

By Lynsey Barber, 16 May 2013
Cleantech business PowerPerfector has handed Harvard PR a brief to promote its energy-saving technology.

By John Owens, 13 May 2013
Propeller PR has been chosen to help the makers of BBC TV series Cash in The Attic go digital and 'dust off the reputation of the antiques world'.

By Lynsey Barber, 07 May 2013
Surname & Surname has been appointed to drive downloads of events app YPlan.

By Lynsey Barber, 07 May 2013
Global game developer ZeptoLab has hired Diffusion to promote the launch of its new game, Cut the Rope: Time Travel, in the UK.

By Alec Mattinson, 03 May 2013
Juliet Clarke, the former head of technology at M:Communications, is to join Powerscourt's technology, media and telecoms team this month.

By Kate Magee, 02 May 2013
'Facebook is dead' for young people, according to BBC Radio 1 Newsbeat and 1Xtra News editor Rod McKenzie.

By Lynsey Barber, 02 May 2013
Former Dell international comms head Stuart Handley has been appointed to an in-house role at one of the UK's fastest-growing IT firms.

By Lynsey Barber, 30 April 2013
BlackBerry will continue to work with Frank PR in the UK but has ended its relationship with Good Relations following a worldwide review of its communications line-up.
---
Additional Information